Youth evangelization resources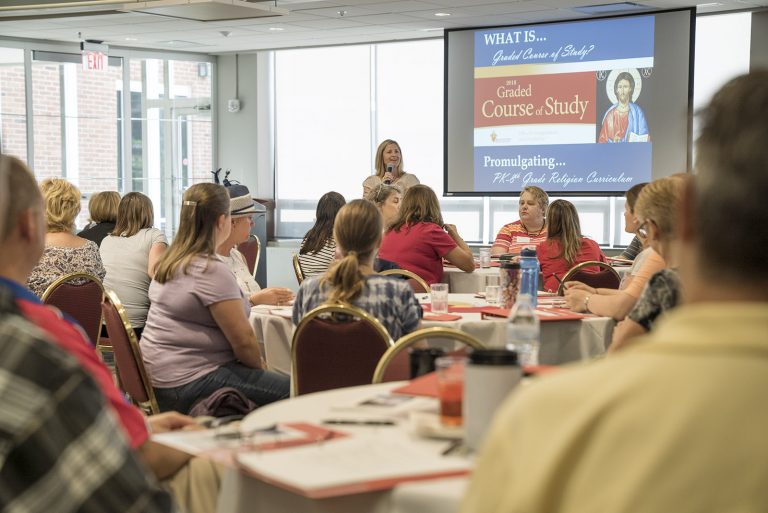 "In this age of radical secularism, scientism and self-invention, we Catholics must boldly and lovingly proclaim the truth, goodness and beauty of what it means to be human." – Archbishop Dennis Schnurr (GCS Promulgation 2018)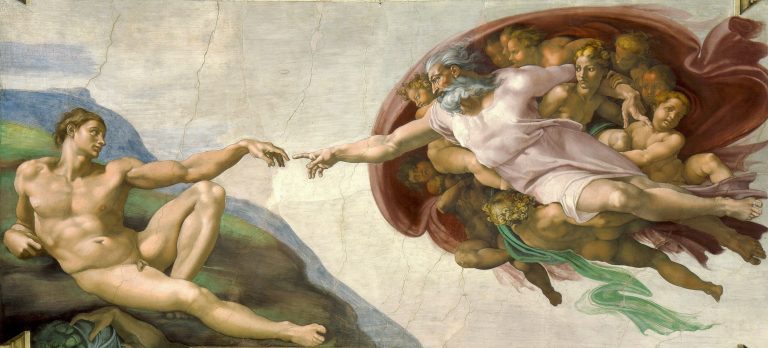 "The body, and it alone, is capable of making visible what is invisible: the spiritual and the divine. It was created to transfer into the visible reality of the world the mystery hidden since time immemorial in God [God's love for man], and thus to be a sign of it." – St. Pope John Paul II, TOB February 20, 1980

Welcome to the NCEA IFG ACRE Program
The Archdiocese of Cincinnati will again participate in the NCEA IFG ACRE program this year to evaluate religious education programs in our Catholic schools and parishes. Catholic Faith Technologies (CFT) is continuing this year as NCEA's technology partner for the administration of all ACRE programs, and they have expressed their sincere gratitude for the opportunity to serve you all.
Please use the following information to make implementing the ACRE program as smooth as possible this year, according to best practices defined by NCEA. As always, the Catholic Faith Technologies team is available to help answer any NCEA-related questions you might have.
---
Ordering
Archdiocese of Cincinnati schools and parishes have the option of administering either the online or offline ACRE assessments in the 2020-2021 academic year. The first step to placing an order is to create a login for the nceaifg.com site. You'll need your login to access the online store and view reports. For more ordering instructions, click here.
Archdiocese of Cincinnati schools and parishes are responsible for ordering and purchasing their own materials. Purchasers can opt to pay by credit card or purchase order when checking out from the online store. If you are ordering for multiple groups, please contact the CFT team before placing your order.  Materials must be ordered by January 11.
Assessment Procedure
After an order for ACRE materials has been placed, purchasers will receive a few emails: 1) a receipt for the order, and 2) instructions for administering each level of the online or offline assessments that were purchased. The instructions will include a unique class code for each level of the assessment. Whether you are administering the online or offline formats, each student will need to provide the class code for proper scoring. Instructions for the online assessment will also include a unique code to register one proctor for each class. Proctors must be a staff or faculty member. If you require more than one proctor per class, please contact the CFT team.
Administering the Assessment Online
Administering the assessment online is the easiest and most cost-effective method, yielding the fastest results. Online assessments are priced at $2.50 per seat. After ordering an online assessment and receiving your class code, you can begin your testing session as soon as you prefer.
Assessment proctors are able to view student progress and generate login codes for if/when students are logged out of the assessment or are not able to complete in one session. Proctors can also close online classes for grading when testing is complete without any intervention by the CFT team. When classes are closed it will trigger scoring, giving designated reporting contacts for each school immediate access to reports. Online assessments must be completed by February 22nd, 2021. Online classes that are left open will be closed by the CFT team on this date.
Administering the Assessment Offline
You also have the option of administering the assessment offline. Answer sheets and test booklets are available for purchase in the online store. Answer sheets are priced at $4.00 per sheet, and test booklets $2.00 each.
Orders for offline materials are fulfilled in house by the CFT team and are shipped same day if placed before 3:00pm. Please only purchase the exact number of sheets you will need to administer the assessment. After all students have completed testing, answer sheets must be packed and returned in the preprinted envelope provided with shipped materials. Answer sheets must be submitted for scoring by February 22nd, 2021.
When answer sheets have been received by the CFT team, they are scored, and results can be viewed online. Designated reporting contacts for each school will be notified when reports are available online. Please allow up to 3 business days after receipt of your answer sheets to receive online access to reports.
NOTE: If you have left-over answer sheets from the previous year and do not need any additional sheets, it is to your benefit if you go online an order just 1 item. This order will generate an ID number that will allow CFT to track your reports and your hard-copy answer sheets. We highly recommend that you order an item each year, even if you will need to save it for next year.
Reporting
Aggregated reports are provided for all levels of the ACRE assessment. New in the 2020-2021 academic year, individual ACRE reports are also available for an additional fee. All reporting is now available online. When reports are available, an email will be sent to designated NCEA user accounts. If you're not sure who has access to your reports, call the CFT help desk at 1-800-707-NCEA (6232) and we'll get you that information. For report access instructions, click here.
COPPA Compliance
Instructions for the offline and online ACRE assessment will allow newly available individual reporting. As part of these changes, student participants will be asked to provide their first and last name when taking either the online or offline assessments.
NCEA and the CFT team are committed to protecting the privacy of all student users, especially when it comes to children under the age of 13. All parishes participating in the ACRE program are required to have parental consent for student information to be collected, as specified by the Children's Online Privacy Protection Act (COPPA). All parish religious education students must have parental consent to participate in the IFG ACRE program.
As part of school Acceptable Use Policies that allow student use of online materials, parental consent is not required for school students to participate in the IFG ACRE program. Rather, schools may state consent on behalf of parents by signing the compliance form.
Completed consent forms are not to be returned to the CFT team. Forms are to be stored by parish organizations and should be made readily accessible by NCEA and/or the CFT team upon request.
Consent form download links:
School_COPPA_ConsentForm-EnglishAndSpanish
Parish_COPPA_ConsentForm-EnglishAndSpanish
If you have any ACRE questions, you can reach Catholic Faith Technologies at [email protected], or  call: 800- 707 – NCEA (6232)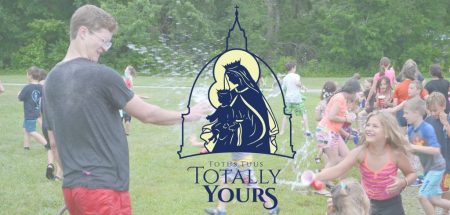 TOTUS TUUS (Latin for Totally Yours) is a fun and energetic parish based summer catechetical program for both grade school age children and middle and high school youth. TOTUS TUUS gathers together college students and seminarians from across the United States onto teaching teams of four in order to train them and send them out on the road to spread the Good News of Jesus Christ in various participating parishes throughout the Archdiocese of Cincinnati.
Youth Evangelist Documents
That is how God the Father see things; he knows how to cherish and nurture the seeds of goodness sown in the hearts of the young. Each young person's heart should thus be considered "holy ground", a bearer of seeds of divine life, before which we must "take off our shoes" in order to draw near and enter more deeply into the Mystery." – Pope Francis, Christus Vivit, 67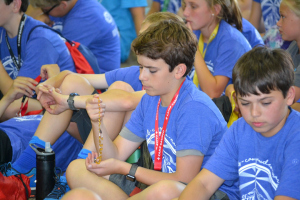 Permissions and Liability Forms
Why exist
Vision Statement (Our WHY):
Radiate Christ in Youth Athletics exists to evangelize those involved in Catholic youth athletics with the hope that sport itself is renewed as: (1) leisure, i.e. a "training for life", (2) to honor the dignity of the human person, and (3) to foster a sense of community, which is itself a Way of Beauty that can lead the broader community to the Lord.
Mission Statement (Our HOW): 
We invite all who organize, coach, and volunteer with Catholic Youth Athletics to seek the face of Christ in the life of the Catholic Church (WIN), and aim to form (BUILD) and commission them as witnesses who invite and accompany youth athletes on the Way (SEND).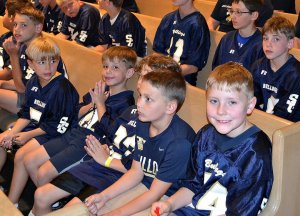 Gabrielle Bouscaren Continuing Education Grant
Gabrielle Bouscaren was born in Cincinnati in 1891. She was a caring woman of deep faith. In 1931, along with her brother, the Rev. Timothy L. Bouscaren, S.J. and Frances Homan, she introduced the Released Time Program in Cincinnati under Catholic auspices. Released time programs, which still exist today, enable students to leave their public schools to participate in religious education. When Gabrielle died in 1986 she left not only a legacy of initiative in religious education, but also a bequest, the interest of which is to be used for religious education in the Archdiocese of Cincinnati.
The Gabrielle Bouscaren Continuing Education Grant has been used in the past few decades to support the on-going education of Catechetical Leaders. We will continue to offer grants from the fund through the Gabrielle Bouscaren Continuing Education Grant. In addition, the Center for the New Evangelization has decided to return to the original spirit of the Fund; that is to support innovative, bold, creative, mission-focused parish initiatives. We are excited to expand the scope of the fund to be able to offer Missionary Option Grants. The Continuing Education Grant application can be found below.
More information about the Missionary Option Grant as well as the online application can be found at centerforthenewevangelization.org/missionary-option-grant.