Pastoral Planning Resources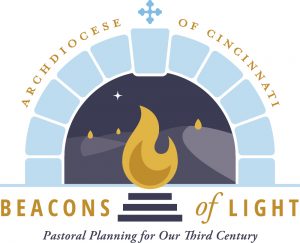 Beacons of Light is a multi-year process of pastoral planning for the Archdiocese of Cincinnati. Groupings of parishes will come together as one faith community. These new "Families of Parishes" will be stronger, with the resources to focus more on mission than on maintenance.
Through Beacons of Light, about 60 parish groupings will become Families of Parishes throughout the cities and towns, suburbs and rural communities of the 19 counties in western and southwestern Ohio. Pastors and parish leaders will then plan for the future of their Family of Parishes.Your leadership is essential to this process. We are grateful for your willingness to serve.