Pastoral Planning resources for priests
Thank you for all you are doing to inform, inspire, and lead your people during this time of pastoral planning. This page has been established to provide an up-to-date place where you will find the information and materials you need in order to carry out your responsibilities in this planning process.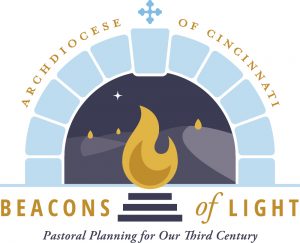 Beacons of Light Communications Materials
*Current Reality Meeting Recording: The Current Reality report was presented at a meeting of priests on June 4 and recorded during a virtual meeting on June 21. The recording is linked here.
Within the presentation, you will find the Current Reality data presented in a number of ways such as lists, tables, graphs and maps.  There are 2 levels or views of maps.  One is at the archdiocesan level and the other focuses on a city, Cincinnati and Dayton respectively.  These maps are grouped together throughout the presentation. Not all parishes are indicated on every map.  All parishes are represented on one of the two levels.  The Cincinnati and Dayton level maps are provided to allow more differentiations between closely located city parishes.


Principles and Vision Points
The goal of evangelizing, mission-focused parishes and six principles described here will be the foundation for the plans each Family of Parishes will create. The vision will guide leaders to consider what living the principle to its fullest would mean for the Family and to plan toward fulfilling that vision.
Framework Status Update
Overview - English
Overview - Spanish