Thank you to all of the organizations that participated in #GIVECatholicAOC on November 30, 2021.
We are excited to announce that our parishes, schools, and ministries raised $2.8 million on Giving Tuesday!
Special thanks to all of the generous donors for making this a very special day!
For questions about #GiveCatholicAOC, email Teresa Meyer at [email protected]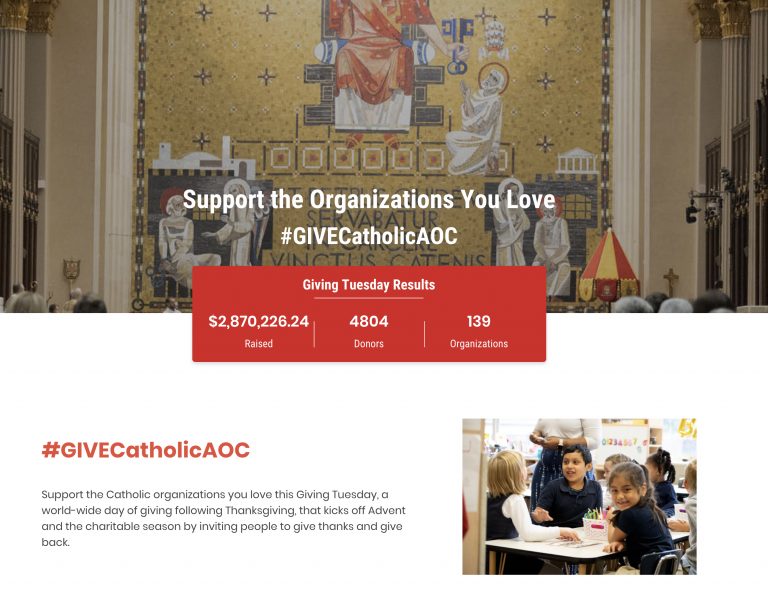 GiveCatholic AOC sponsors
Thank you to our of our sponsors for supporting GIVECatholicAOC. Sponsorship dollars are used to award prizes to organizations. Please check our social media platforms in the upcoming weeks for an announcement on prizes.
Important Information about Giving Tuesday
1) Donation Platform Opens on Monday, November 15.                        The GiveCentral giving platform will be open to accept donations starting on Monday, November 15. Organizations have the option to begin accepting donations on November 15 or waiting until the actual giving day on Tuesday, November 30, (the donation button can be turned "ON" or "OFF" in the settings of your admin page).
2) Prize Awards. Thanks to the generous support of our sponsors, we will once again offer prizes for the organizations that have the most donors. The dollar amount for prizes is still being finalized as sponsorship contributions are still being made.
Prize Award Rules: Only online donations made on the GiveCentral platform will count toward prizes. Offline donations ARE NOT eligible. Prizes will be based on individual donors, multiple donations made by the same donor will only be counted once. Prizes will be awarded based on the total number of individual donors participating between November 15 and November 30. In the event of a tie, the organization with the highest average donation will break the tie.
3) Receiving Donations Made on Giving Tuesday. Donations made on Giving Tuesday will be processed by GiveCentral and deposited through the Archdiocese. Funds will be distributed by check to organizations – our goal is to distribute funds within 10 to 14 business days after Giving Tuesday. Please note that depending on the volume of transactions, # of failed transactions, requests for refunds, etc., additional time may be needed to complete the bank reconciliation process needed to finalize distributions.
Note about Fees: New this year, we have negotiated a "flat fee" with GiveCentral for processing contributions. This will allow donors to cover the fees when finalizing their donation(s) – note: covering the fee is optional for the donor. Our hope is that having a flat fee will also allow for a quicker turnaround on reconciling deposits with contributions and distributing funds to participating organizations.
Here is the break-down of transaction fees for the GiveCentral Platform:
ACH (Electronic Check): 0.4% + 0.48 per transaction
Credit Card: 3.25% +0.30 per transaction.
Processing fees will be taken out before the distribution of funds. Organizations will receive the Net Donation amount.
4) Donation Acknowledgement & Receipts
Donors making a contribution(s) through the GIVECatholicAOC platform, powered by GiveCentral, will be sent a donation receipt via email from the Archdiocese. This receipt will include the appropriate language for tax deduction purposes.
If a donor contributes via check/cash directly to the organization, the organization should send a donation receipt acknowledging the contribution.
5) "Assessment Waiver" for Parish Donations
The Archdiocesan "assessment waiver" for parish donations continues to apply for online donations made on Giving Tuesday through the GIVECatholicAOC website.
To be eligible for the assessment waiver, the following criteria applies:
Donation is made online through the GIVECatholicAOC platform, powered by GiveCentral, via credit card or EFT.
Donation is made on Giving Tuesday, November 30 (12:00 a.m. to 11:59 p.m.).
Offline donations added to the GiveCentral system, such as checks received at the parish, are not eligible for the assessment waiver. Tracking online donations is the most efficient and accurate way to manage this process.
Cash and check donations for Giving Tuesday received by the parish should be deposited by the parish receiving the donation.
For questions or additional information, please contact the Director of the Stewardship Department, David Kissell, at (513) 263-3381 or email [email protected].