It was at a January 2019 meeting of pastors that one of the priests spoke passionately about moving from maintenance to mission. The energy in the room changed, the phrase captured the great task that has now been set before us with Beacons of Light and the implementation of our Families of Parishes. This is why we have invited Fr. James Mallon and Dan Cellucci to present at the upcoming Presbyteral Convocation Sept 26-29; each of them will bring tremendous wisdom, experience, and expertise to the priests of the archdiocese as we take steps toward greater parish vitality in the future. It was Fr. Mallon who coined the phrase "from maintenance to mission" in his book, Divine Renovation. The book will be given to all the priests at the convocation; pastors have already received Divine Renovation and the accompanying guidebook, as these resources provide a solid foundation and framework for much of what we hope to accomplish through Beacons of Light.
I hope the convocation will prompt many discussions among parish leaders upon the priests' return and serve as a springboard for transformation in the future. We have all likely had the experience of attending an inspiring and informative conference and quickly losing steam once we return home to the daily responsibilities in our parishes. 
Here are a few strategies to build on Fr. James' and Dan's time with the priests.
Pray. Let us root all we are and do in prayer and rely on the Holy Spirit to inspire, guide, and strengthen us at this time.
Become familiar with the key concepts of Divine Renovation. Read the book and talk about it with other parish leaders or check out this video. Set aside time at meetings to discuss what you are learning.
Take steps to intentionally grow as a leader. Use the resources on the Center for Parish Vitality Leadership page as a start.
If your parish leaders have not yet completed the Parish Inventories, now is a great time to do so. This exercise will help you identify areas of strength for each parish in your Family and will be used to consider plans for growth for the future.
Schedule time in the first week of October, just after the Presbyteral Convocation, to talk with the priests of your parish about what they heard and experienced at the convocation. What were their key takeaways? How do their highlights amplify or enhance what you have previously discussed or considered? What ideas or opportunities for growth come to mind for your Family of Parishes so that you may more fully move from maintenance to mission?
On this Feast of the Exaltation of the Holy Cross, let all of us who serve as leaders in our parish communities strive to more earnestly take up the cross of service so as to build Families of Parishes that truly radiate Christ!
With gratitude for the work that each of you do to make our parishes Beacons of Light…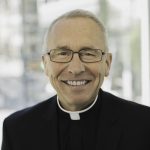 Fr. Jan Kevin Schmidt
Director
Department for Pastoral Vitality
FIND MORE ON THE PATHWAY!