Dedicated parishioners, priests, religious and bishops join together in a common purpose to the rural church, rural people, and their communities. The Archdiocese of Cincinnati is served by two Rural Life Conferences, which operate under the auspices of the Catholic Social Action Office:  The Catholic Rural Life Conference of St. Marys and Sidney Deaneries and the St. Martin Rural Life Conference. These conferences educate and assist parishes and parishioners about rural life concerns by identifying needs, providing resources, and advocating a moral perspective. The St. Marys and Sidney Deaneries Rural Life Conference covers Darke, Mercer, Auglaize, Shelby, and Miami Counties. The St. Martin Rural Life Conference is organizationally located within the St. Martin Deanery and meets regularly at St. Mary Church in Arnheim, Brown County.  The St. Martin Deanery covers five counties in the Archdiocese of Cincinnati: Adams, Brown, Clinton, Highland, and the eastern portion of Clermont.
Ohio Catholic Rural Life Conference
This site provides Rural Life resources such as rural life prayers, legislative updates, Catholic social teaching, and more!
The conference:
Assists parishes in organizing "rural life masses" and other observances
Provides liturgy resources for rural parishes
Promotes prayer, healing and reconciliation
Monitors state and national legislation; advocates and prepares statements and provides legislators with resources on rural issues.
Provides parishes with resources on farm, rural and environmental issues.
Monitors and influences land use and development planning
Works for credit and lending for farmers
Advises and updates the Archbishop and the Catholic Social Action Commission.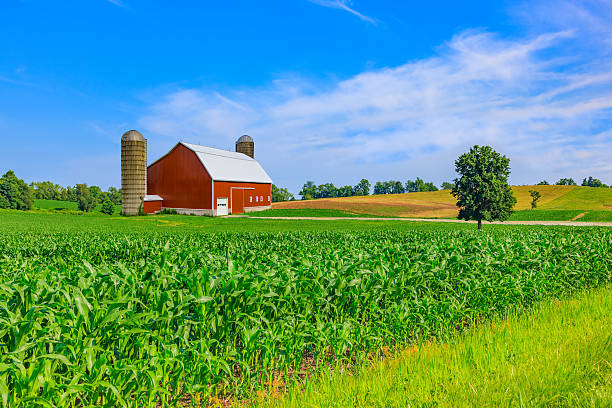 The signature events of our Rural Life Conferences each year are our Rural-Urban Farm Masses. Up north, the mass is typically held in the summer, and out east the mass is usually in the early fall. These masses are a chance for the entire archdiocese to celebrate the contributions of both our rural and urban folks living outside of our major metropolitan areas and to pray for these folks, especially as they follow God's command to care for and till the land. 
Sidney-St. Mary Deaneries
This year's mass is being held on Thursday, July 15, 2021 on the Boeckman Family Farm in Coldwater. The festivities begin at 6:30pm with a rosary and will include mass, the presentation of the Century Farm Awards, and a Barn Dance! You can find more details about the event here. Come on out and join the fun!
St. Martin Deanery
Due to the increase in COVID cases and out of an abundance of caution, this year's farm mass has been canceled. We regret having to make this decision, but we must first and foremost protect all life.
We look forward to celebrating with everyone next year.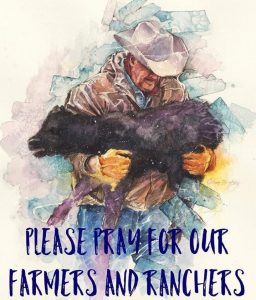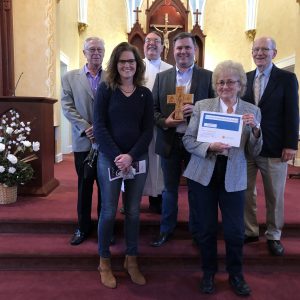 The Archdiocese of Cincinnati's Catholic Rural Life Conference of St. Martin Deanery would to like to honor Catholic families in the deanery who have had the same farm in their family for 100 years or more. There is a short application to fill out and a copy of the original deed is needed and can be found at the county courthouse.
Click here for the necessary information and application.
(Picture: 2020 Century Farm Award winner Connie L. Evans-Holden with family, Fr. Tom Bolte, and Pat Hornschemeier, CRL chair)

A Lenten Journey Through Black History in Rural Ohio

Catholic Social Teaching calls us to not only understand and deepen our faith but also to live our faith. Whether through advocacy, education, faith sharing, or public action, we all must practice our faith in our every word and deed. As James 2:17 says, "Faith without works is dead." Please check back often to our Action Center for various ways that you and your community can speak out with compassion and solidarity for justice and peace.