"Today, there are accommodations that help individuals who are blind or who have low vision meaningfully participate in the life of the Church as students, clergy members, pastoral leaders, teachers, and more. Parishes can help to promote the meaningful participation of these individuals by offering parish materials in braille, in large print, and in electronic format. It is important to be aware of the accommodations available for people who are blind or who have low vision so that parishes can benefit from the vocations of more individuals."
– National Catholic Partnership on Disability
Check out our Being Pro Life Episode: Deaf and Blind Communities: How Can We Be More Welcoming?. Click the video or one of the icons to the left to watch, listen, and read.

If you have met one blind person… you have met only one blind person.  Some people are born blind, others lose their sight from an accident or a degenerative disorder. Some people have significant visual impairment that prevents them from reading.  Others experience vision loss that allows them to be able to see large print.  There is a varying spectrum of impact when it comes to blindness and vision loss and the experience is different for every person.
It is essential to keep this in mind when working in church ministry. We must seek a variety of resources to accommodate persons with blindness and vision loss, so that all can be welcome at the Lord's table.  Below you will find an array of materials including braille, large-print, audio materials, and adaptive technology that can help to create a culture of inclusion and meaningful participation for persons with low vision.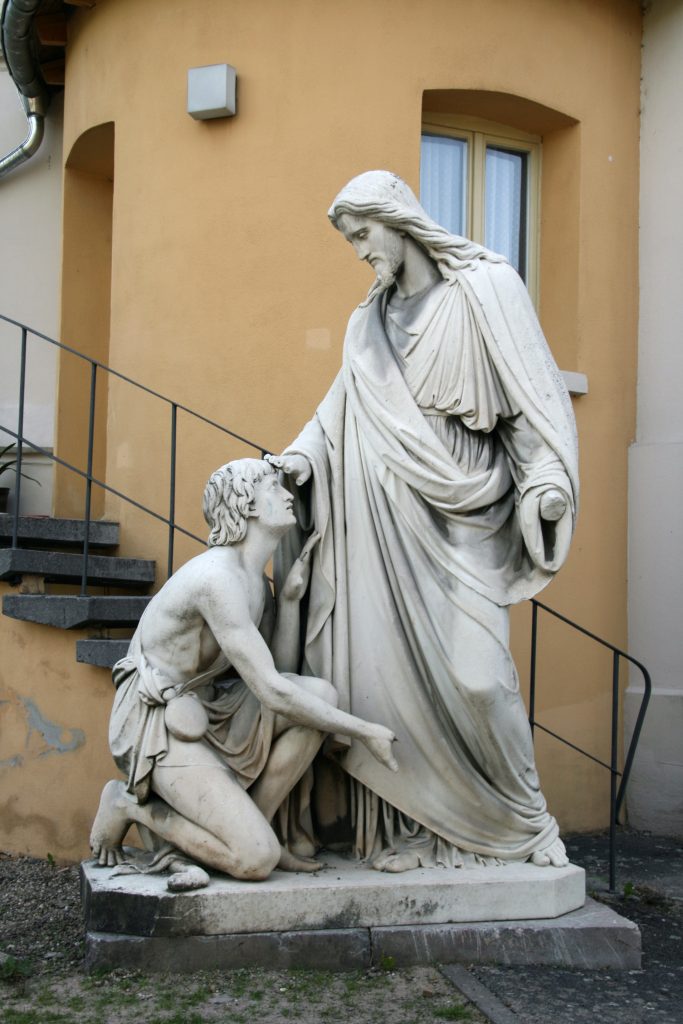 If persons with disabilities are to become equal partners in the Christian community, injustices must be eliminated and ignorance and apathy replaced by increased sensitivity and warm acceptance. The leaders and the general membership of the Church must educate themselves to appreciate fully the contribution persons with disabilities can make to the Church's spiritual life.

… Persons with disabilities, like all other parishioners, should be encouraged to participate in all levels of pastoral ministry that are available and for which they are qualified… In choosing those who will be invited to use their gifts in service to the parish community, the parish pastoral staff and lay volunteers, including ushers and liturgical ministers, should be mindful of extending Christ's welcoming invitation to qualified parishioners with disabilities. Like others, Catholics with disabilities are not only recipients of the Gospel, but are also called to proclaim it and to be witnesses to its truth.

Below are organizations, along with their webpages, that serve as wonderful resources for parishes, families and individuals who would like to learn more about resources and services available for persons with blindness and vision loss.
Mission: Rooted in Gospel values that affirm the dignity of every person, the National Catholic Partnership on Disability (NCPD) works collaboratively to ensure meaningful participation of people with disabilities in all aspects of the life of the Church and society.
This website is loaded with resources for families, individuals and parishes to better support faith development and meaningful participation within the Catholic Faith.
Since its founding, the Xavier Society has continued its pioneering mission by adding large print, vinyl records, audio cassette and most recently MP3 digital formats to its Braille offerings. In 1995, the Xavier Society was the first to transcribe the entire Catechism of the Catholic Church, including footnotes and indices, into three formats. As new translations of Scripture and readings and prayers for the Mass have been approved by the U.S. Conference of Catholic Bishops, the Xavier Society was ready to transcribe and offer them to our clients.
Mission: We are changing what it means to be blind. Until everyone, blind and sighted alike, understands that blindness need not be a tragedy, until no one uses blindness as an excuse for not trying to succeed or not giving a person a chance, until we all expect blind people to take their place in the community as fully contributing, fully participating members of society, the NFB's mission will be to bring these dreams to reality.
This website includes a plethora of resources regarding guide dogs, free white canes, scholarship opportunities and more. It also has specialized satellite sites for: Parents of Blind Children, Blind Parents, Blind Students, and Blind Seniors.
Mission: The American Council of the Blind of Ohio strives to increase the independence, security, equality of opportunity, and quality of life, for all blind and visually impaired Ohioans.
Vision: To create a society without barriers for individuals who are blind or visually impaired through advocacy, education, public awareness, collaboration, and support.
If you want to work but are having trouble because of your disability, you may qualify for vocational rehabilitation services from OOD.
BSVI assists eligible people, beginning at age 14, with low vision and blindness by providing direct, personalized services to assist them in finding and retaining meaningful work and personal independence.
Basic services include personal and work adjustment training, vocational training, mental and physical restoration, and placement assistance.
Our mission is to empower people of Greater Cincinnati who are blind or visually impaired with opportunities to seek independence. We do this by surrounding our clients with the most caring people and helpful services to build a plan based on their needs.
Services include access technology services, early childhood and youth services, low vision services, orientation and mobility, vision rehabilitation therapy, and social services.
The mission of the Access Center for Independent Living (ACIL) is to ensure that people with disabilities have full and complete access to the community in which they reside. These services are focused primarily in the Dayton Area.
CILO was founded in 1977 by people with disabilities who wanted to provide a support system to help people with physical, sensory, cognitive, and/or psychological disabilities reach their greatest potential and independence. CILO is the oldest independent living center in Ohio and is governed, managed and staffed by a majority of professionals with disabilities who have an insight into the issues experienced by people with disabilities.  These services are provided for the Greater Cincinnati Area.
In our media-driven world, it is imperative to find media resources that are adaptive and can accommodate the needs of persons with blindness and vision loss. Below are a variety of these media resources broken into two sections: actual pieces of media pertaining to blindness and vision loss & media providers that offer alternative materials.
articles, podcasts & Videos
This article is part of the Being Pro Life Campaign and features personal stories of those affected by barriers in our church. This campaign includes an article, video, and podcast that effectively convey what it means to have a consistent ethic of life.
A beautiful reflection on the struggle of permanent vision loss that lead to a new revelation… that visual impairment can actually become a gift.
Alternative Media Providers
To commemorate low vision loss awareness month, Charleen Katra, Executive Director of NCPD, talks with Malachy Fallon, Executive Director of Xavier Society for the Blind. How can your parish or (arch)diocese serve persons who experience low vision loss or blindness? Check out the resources available at Xavier Society for the Blind.
AT Ohio's mission is to help Ohioans with disabilities learn about or acquire assistive technology. Assistive Technology refers to devices, equipment or services that assist individuals with disabilities to function independently in the areas of work, home or school. We offer several programs and services to achieve that goal. We also keep up with current legislative activity that affects persons with disabilities, and educate legislators about the needs and concerns of citizens with disabilities.
The NCPD in conjunction with the USCCB have created a program for priests and deacons to receive large-print missals and lectionaries for free. A donation is suggested, but not required. These materials are also available on CD for a much lower cost and can be printed as needed. Click the title above to be taken to the ordering page.
National Library Service (NLS) is a free braille and talking book library service for people with temporary or permanent low vision, blindness, or a physical, perceptual, or reading disability that prevents them from using regular print materials. Through a national network of cooperating libraries, NLS circulates books and magazines in braille or audio formats, that are instantly downloadable to a personal device or delivered by mail free of charge.
To create a culture of inclusion and meaningful participation for persons with blindness and vision loss, we all must do our part towards advocacy, awareness, service or prayer. Below are a list of ways to get involved.
The National Federation of the Blind is continuously working toward securing full integration, equality, independence, acceptance, and respect for all blind Americans.
Our advocacy work has centered on issues related to education, employment, transportation, voting, and civil rights, and is directed by the resolutions that are passed every year during our national convention. As the oldest and largest nationwide organization of blind Americans, we are able to provide expert advice in these areas to blind people, their families, agencies for the blind, corporations, and the government.
Creator God, we are your people.
We look to the future with optimism and with faith in You, as we pursue our call to provide justice and fullness of life for all people with disabilities.
We pray that every man, woman and child may develop their potential and meet You in themselves and in one another.
May we enjoy a totally welcoming community, with You as our center, joined hand in hand with our sisters and brothers.
We ask this in Jesus' name. Amen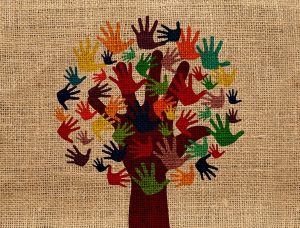 To promote a sense of belonging within our community, it takes many hands. Service is essential to truly welcome all to the Lord's table. Efforts can be made at an individual and parish level to reach out to persons with blindness and low vision and intentionally invite them to participate at church.  One of the biggest struggles that persons with blindness and low vision experience is a lack of mobility.  Transportation can play a huge role in preventing someone who is blind from attending Mass.  It can also be very difficult to navigate in a church when you are unfamiliar with your surroundings, or even to go up for Communion when you don't know where the line begins.  Organizing a ministry that would provide transportation and assistance could create a welcoming environment in a parish.  Consider taking the first step.
Bob Wurzelbacher
Office Director
(513)263-6674
Noelle Collis-DeVito
Associate Director
(937)281-4128