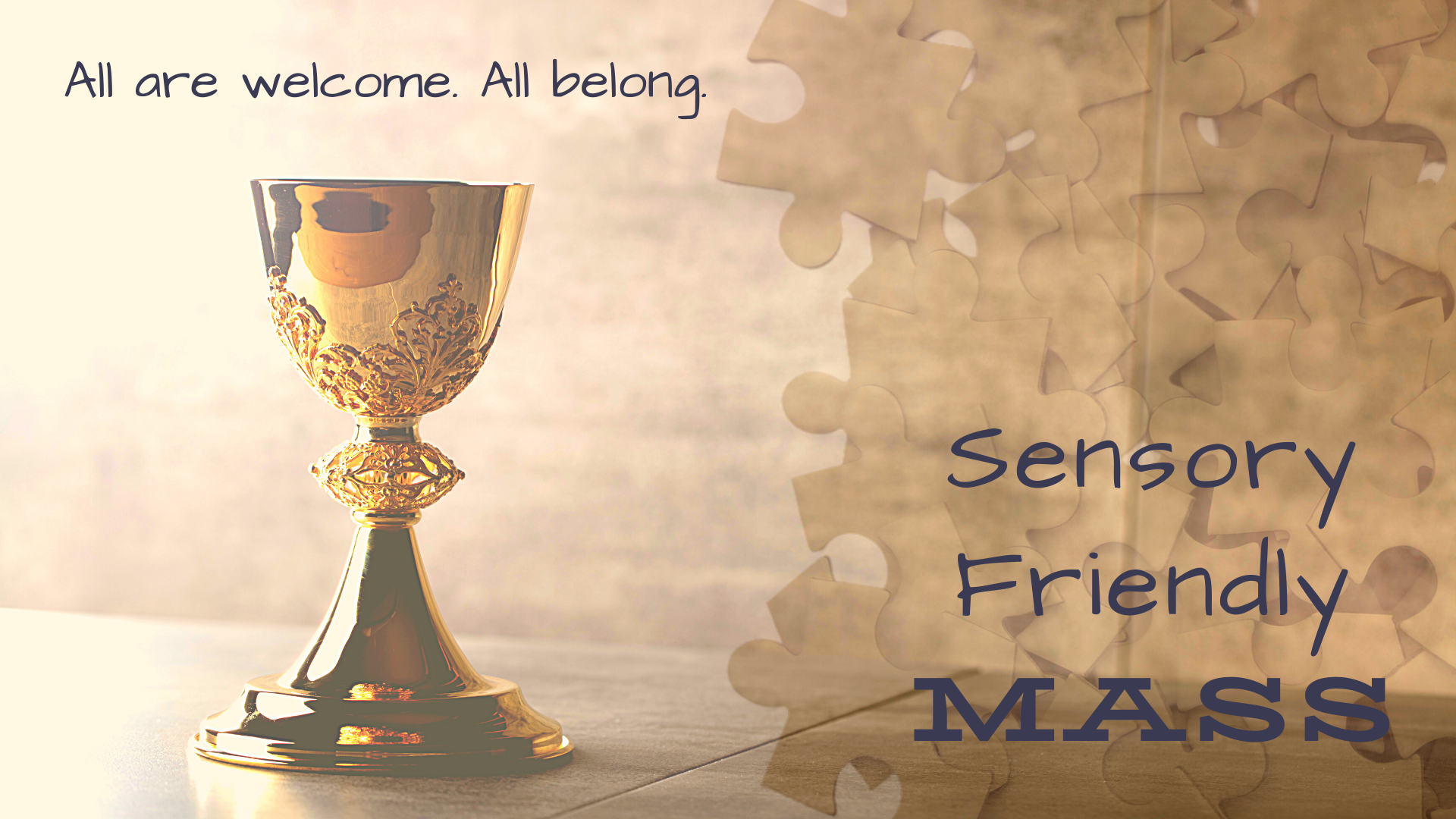 In an effort to embrace and welcome the members of our church with Autism, Down Syndrome, and other intellectual and developmental disabilities, the Archdiocese of Cincinnati has begun hosting Sensory-Friendly Liturgies. These Masses include lower lights, softer music, scripture from the Children's Lectionary, and shorter more literal homilies; however, the biggest difference is that we try to create an environment free of stigma. We encourage families and individuals to get up and move if needed, to bring alternative seating, fidgets or noise cancelling headphones, and to participate in the liturgy just as they are.
FREQUENTLY ASKED QUESTIONS
How to host a Sensory-Friendly Mass
In order to host a Sensory-Friendly Mass, there are two steps: Awareness & Accommodation.
This first step is essential to help the average person in the pew understand the struggle of persons with disabilities. We have put together a number of RESOURCES that will assist you in creating awareness through:
Bulletin Inserts & Announcements
Sample Pulpit Announcements
A brochure for parishioners (especially liturgical ministers)
Videos of various lengths to raise awareness and start conversations
References for a better understanding of persons with disabilities for Homilies
If the parishioners can understand the need for a Sensory-Friendly Mass and what that Mass will look like, they are more likely to support it. We recommend spending at least a month (every parish will be different) focusing on awareness and understanding before hosting a Sensory-Friendly Mass.
The second step is simple- prepare and host the liturgy. We realize that not every parish is going to be able to meet all of the criteria for an ideal Sensory-Friendly Mass. The most important aspect of the liturgy for persons with sensory issues is to be welcoming and inviting. Advertise for the Mass and extend an invitation to persons with autism, intellectual and developmental disabilities, or even persons with Alzheimer's Disease or dementia in your area. A Sensory-Friendly Mass requires a few small adjustments, but they are not tedious or burdensome. Check out our RESOURCES section for more information on appropriate accommodations, homily helps to make your homily more literal, and a toolkit of adaptive materials for families.
Due to the COVID-19 Pandemic, our parishes are not currently providing Sensory-Friendly Liturgies; however, they will be resuming late this summer! Stay tuned for updates!

Homily Helps & Suggestions
Persons with autism and intellectual and developmental disabilities understand content in a more literal way.  For each week of our liturgical cycle, we have provided a few very basic suggestions for how to tailor your homily to make it more literal for many of the people who would choose to attend a Sensory-Friendly Mass and also for families with children.  These suggestions are just a jumping off point and personal stories, visual aids, and interactive questions could be a great way to build an effective Homily that meets the needs of a neurodiverse community.  At the top of each week, there is a link to a digital and printable Children's Lectionary provided by Pflaum.  Another great resource for developmentally appropriate reflections on the weekly readings can be found on the Loyola Press Website.
Bob Wurzelbacher
Office Director
(513)263-6674
Lisa Averion
Associate Director
(937)281-4128
Becky Schoenfeld
Associate Director, Respect Life
(937)281-4127