Extraordinary Ministers of Holy communion
EMHC Formation: This Holy and Living Sacrifice (El sacrificio vivo y santo)
Formation and training is offered for extraordinary ministers of Holy Communion. Participants receive a certificate of attendance which can be presented to their pastor as part of the process of being authorized for service in their parish.
In-person and online formation and training workshops for new and veteran extraordinary ministers of Holy Communion take place each Spring and Fall. Some sessions will focus on ministry to the sick, hospitalized, or homebound. At certain times, a session may be offered in Spanish. 
     Next Session: 
Sunday, July 30, 2023, 2:00pm, at St. Julie Billiart Church, 224 Dayton Street, Hamilton, OH 45011 – ALL IN SPANISH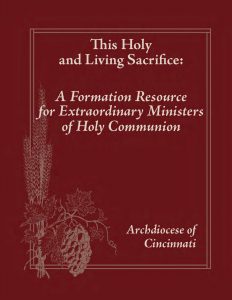 This Holy and Living Sacrifice is the policy and formation book for extraordinary ministers of Holy Communion in the Archdiocese of Cincinnati
!!! NEW !!!!  El sacrificio vivo y santo
RESOURCES FOR PASTORS
Extraordinary ministers of Holy Communion are commissioned by their pastor for service in the coming year, after authorization from the Archbishop.