The parish is the community of faith in which people are formed by word and sacrament and from which they are sent to radiate Christ's love in the world.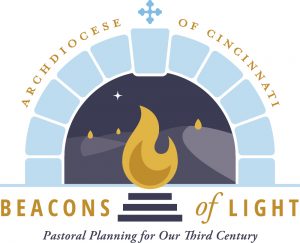 BEACONS of LIGHT is a strategic, pastoral planning process that will lead us toward a bright future for the parishes of the Archdiocese of Cincinnati for our third century.
St. John Paul II presented a vision of the Church as the "home and school of communion" in which people are drawn deeply to the heart of the Lord and from that heart are led to see and respond to the needs of their brothers and sisters.  (Novo Millennio Ineunte, 43)
This vision will only come to fruition when the parish is "vitally alive in faith," in which the Sunday Eucharist is at the center of parish life; where the parish is a center for the New Evangelization; and where people are formed, urged, and sent to put love in action in the parish and beyond it.
Such parish vitality is intentionally developed and sustained through the leadership of pastors in collaboration with their people.