The Archdiocese of Cincinnati's medical plan
is administrated through Anthem.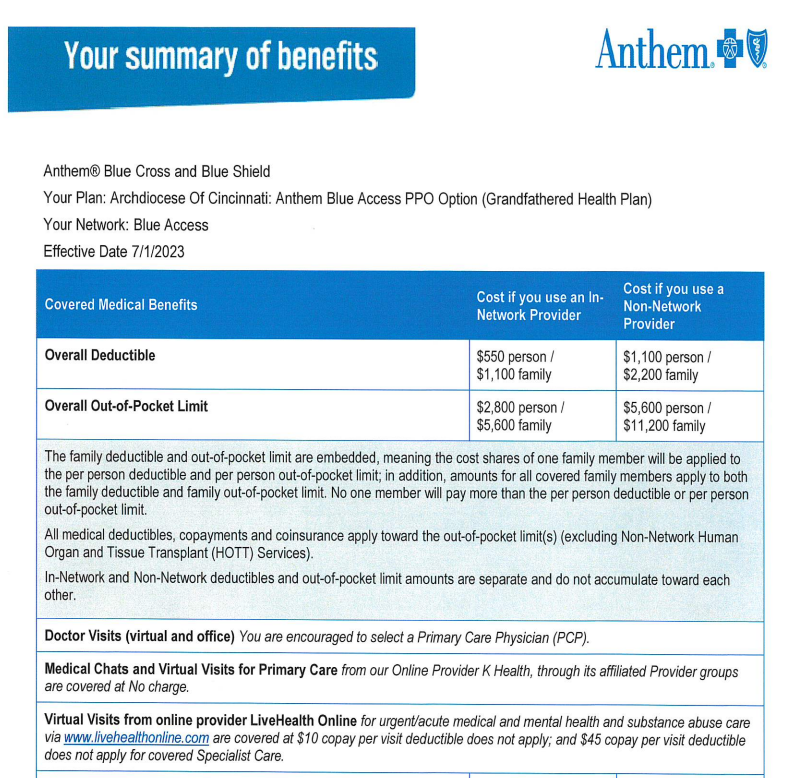 Anthem's Sydney health app
Sydney Health makes health care easier!   
With just once click, you can:
Find care and check costs
See all benefits
View Claims
View and use digital ID cards
Use the interactive chat feature to get answers quickly
Sync your favorite fitness tracker
Get started with Sydney Health – Download the app today!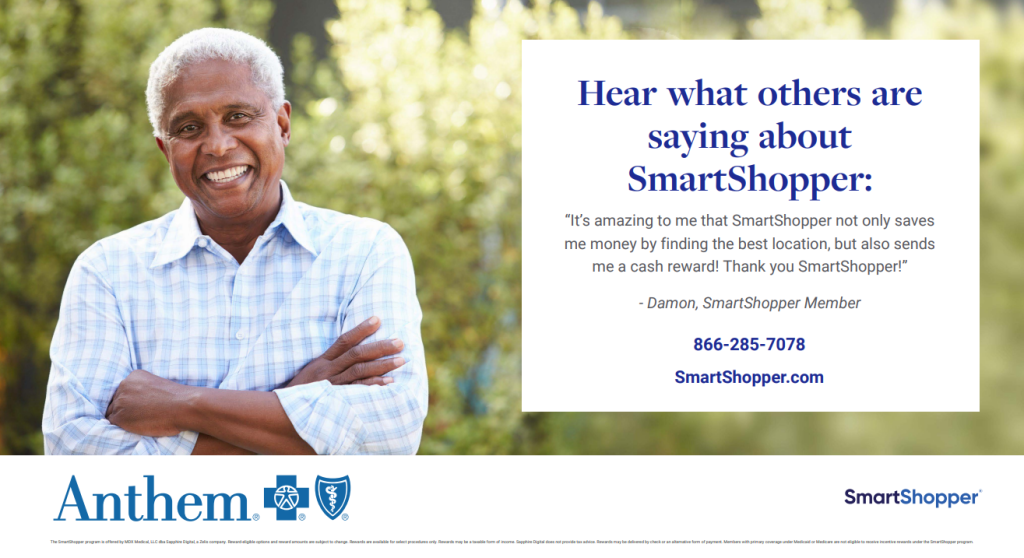 Medical procedure costs vary by location.  Use SmartShopper to compare in-network prices for 100+ procedures at high-quality locations.   Call or shop online so you can earn cash and save money out-of-pocket with SmartShopper!
Visit SmartShopper.com or call the SmartShopper Personal Assistant Team at 866.285.7078.   The Personal Assistant Team is available to help you shop, find a location, compare costs, confirm rewards, and even schedule your appointment. 

The Archdiocese of Cincinnati is offering Hinge Health to employees and dependents 18+ enrolled in the Anthem plan.  Hinge Health is a digital exercise program that supports back and joint health. Hinge Health provides exercise therapy without leaving home and with no copays.   
Hinge Health gives you the tools you need to conquer back and joint pain, recover from injuries, prepare for surgery, and stay healthy and pain free. Plus, you can complete your customized care plan anywhere, anytime.
Follow this link for more information: Archdiocese of Cincinnati and Hinge Health . 
In need of orthopedic care - Hip, knee, spine or shoulder
Partners in Health
The Archdiocese of Cincinnati has partnered with The Christ Hospital Joint and Spine Center to offer surgery benefits through the Center of Excellence program for hip & knee replacements, spine & shoulder procedures.
Members covered under the Archdiocese of Cincinnati health plan that utilize the Center of Excellence through the Christ Hospital for hip & knee replacement, spine & shoulder procedure are eligible to have the deductible and coinsurance waived for the procedure.
Tour the Christ Hospital Joint & Spine Center
Download an Informational Trifold
Program Benefits Include:
Deductible and coinsurance waived for the procedure
Educational program prior to surgery
One number, one person who will coordinate scheduling the surgery, follow-up appointments and physical therapy
You will receive only one bill and explanation of benefits that includes:
facility fees
surgeon fees
fees for other ancillary costs during the hospital stay


24/7 NurseLine
888.249.3820


 
Call the Anthem 24/7 NurseLine to talk with a registered nurse about your health concern, wheether it be allergies, fever, types of preventive care, or other topics. The nurses are able to help you determine if you need to see care, and if so, the urgency.  Spanish speaking nurses and translators are available.

If you prefer not to speak to a nurse, you can access the AudioHealth library of prerecorded messages on more than 300 different health topics in both English and Spanish.  You can access these messages by calling the NurseLine and select the option for AudioHealth library.
Future Moms
Ever wish you had a go-to source for all of your questions about pregnancy?  Now, you do.  Future Moms is a program that can answer your questions, help you make good choices and follow your health care provider's plan of care. And it can help you have a safe delivery and a healthy child.

Sign up as soon as you know you're pregnant.  Just call Anthem's toll free number at 800.828.5891. A registered nurse will help you get started.

You will have access to:
A toll-free number so you can talk to a nurse coach 24/7, about your pregnancy. A nurse may also call you from time to time to see how you're doing.
The Mayo Clinic Guide to a Healthy Pregnancy book that shows changes you can expect for you and your baby during the next nine months.
A screening to check your health risk for depression or early delivery.
Other useful tools to help you, your doctor and your Future Moms nurse keep track of your pregnancy and help you make healthier choices.
Free phone calls with pharmacists, nutritionists and other specialists, if needed.
A booklet with tips to help keep you and your new baby safe and well.
Other helpful information on labor and delivery.
LiveHealth Online
On LiveHealth Online, you can:
See a board-certified doctor 24/7.  You don't need an appointment to see a doctor.  They're always available to assess your condition and send a prescription to the pharmacy your choose, if needed. It's a great option when you have pink eye, a cold, the flu, a fever, allergies, a sinus infection or another common health issue.
Visit a licensed therapist in four days or less.  Have a video visit with a therapist to get help with anxiety, depression, grief, panic attacks and more.  Schedule your appointment online or call 1-888-548-5432 from 8:00 AM to 8:00 PM, seven days a week.
Consult a board certified psychiartrist within two weeks.  If you're over 18 years old, you can get medication support to help you manage a mental health condition. To scheduled your appointment call 1.888.548.3432 from 8:00 AM to 8:00 PM seven days a week.  
 
Just use your smartphone, tablet or computer with a webcam. It's so convenient, almost 90% of people who've used it feel they saved two hours or more and would use it again in the future. Plus, online visits using LiveHealth Online are already part of your Anthem benefits.  The copay for a LiveHealth Online visit will only be $10!  
Lost ID Card
If you lose your Anthem ID card, you can always request a new one and print out a temporary ID card online by registering at Anthem.com.  Or contact Anthem Member Services at 1.844.995.1752. 
You may want to download the Anthem Sydney app from the App Store or Google Play to use your mobile ID card. The mobile ID card works just like the one you get in the mail.
Looking for a Doctor
Finding a doctor online is fast and easy by using the Anthem online Find A Doctor tool to look for doctors, hospitals, pharmacies, labs and other healthcare providers in the Anthem network.  Check if your doctor is in the network, or look for one near you. Avoid getting out-of-network care if you can -- it will cost you more or the Archdiocese of Cincinnati Health care plan may not cover the entire cost
Need an MRI, MRA, CT or PET Scan
Advanced Imaging MRI, MRA, PET, CT non-maternity ultrasound and
nuclear cardiology - outpatient program:
Deductible is waived and coinsurance is reduced by half to 10% for advanced imaging at a free-standing imaging center versus at the Hospital.
If your doctor determines you are in need of one of the advanced imaging scans noted above, he/she will contact Anthem to initiate the pre-authorization process.
Anthem will review the referred imaging provider to confirm they offer the best quality of care and price in your area.

If another provider in your area is recommended, this will be handled with your doctor during the pre-authorization process and you will be directed accordingly by your doctor.

If your doctor chooses not to refer you to the preferred facility, Anthem will contact you to let you know of the preferred choices in your area. Follow this link for a lisiting of the preferred outpatient imaging centers. (The list is as complete as possible, Anthem reserves the right to amend and the patient should confirm with center)

Should your doctor fail to obtain the pre-authorization, your claim cost will not be impacted.
Publicly Available Cost Information/Transparency in Coverage
The link below leads to the machine readable files that are made available in response to the federal Transparency in Coverage Rule and includes negotiated service rates and out-of-network allowed amounts between health plans and healthcare providers. The machine-readable files are formatted to allow researchers, regulators, and application developers to more easily access and analyze data.
Summary of Benefits and Coverage (SBC)
The Summary of Benefits and Coverage (SBC) document shows you how you and the plan share the cost of covered health care services.
Traveling? - Take your benefits with you
What is Continuation of Coverage
As a church plan, the Archdiocese of Cincinnati's Health Plan is not subject to federal COBRA coverage.   The Plan is subject to Ohio's continuation coverage requirements.   The Archdiocese of Cincinnati offers continuation coverage to employees and their covered dependents who lose coverage under the Plan as a result of their involuntary termination of employment.  To be eligible, you must have been covered by the Plan at the time of your termination of employment and your termination must not have been on account of gross misconduct.  Contact your Business Manager or the Benefits Office at the Pastoral Center for the Archdiocese of Cincinnati for additional details.  
Why is Anthem Calling
Condition Care is a program for individuals covered under the Archdiocese of Cincinnati Health Plan and there's no extra cost to participate. 

Anthem may call to find out if ConditionCare can help an individual and request participation.   To protect the individual, verification of address or date of birth will be needed before talking about health issues.   ConditionCare is for the whole family, so it can help parents manage their children's chronic conditions, too.

Features under the program are:
24-hour, toll-free access to a nurse who'll answer questions
A health assessment by phone
Support from nurse care manager, pharmacists, dietitians, doctors and other health care professionals to help you reach your goals.
Educational guides, newsletters and tools to help you learn more about your condition.

The ConditionCare nurse managers can help with controlling the following ongoing conditions:
Asthma
Chronic obstructive pulmonary disease (COPD)
Coronary artery disease
Diabetes 
Heart failure


The nurse managers are trained in these conditions to work with both children and adults.  They can help you better manage your condition through education about the condition and symptoms and how to properly and effectively follow your medication instructions and treatment plan.