The Archdiocese of Cincinnati's voluntary Vision coverage is administrated through VSP.
2022-2023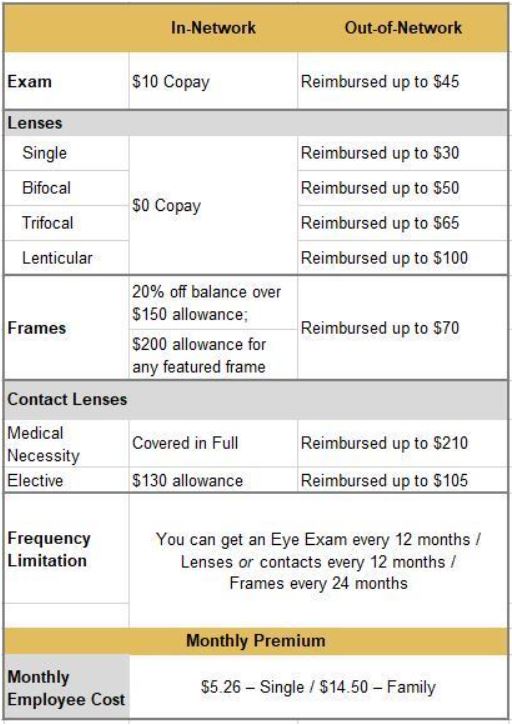 Eye exams are an important part of overall health care for the entire family.  The new vision carrier VSP offers a large network of providers.  When you use a contracting network provider, the care is considered "in-network" and your expenses will be paid using in-network rates.   If you select a provider outside of the network, the care is considered "out-of-network." Coverage is still provided, but the out-of-pocket costs will be significantly higher. 

Create a VSP Member Account
Why create a VSP account?
Create an account for instant access to your personal benefit information. Check out your coverage, find an eye doctor, see past visits, manage your account, and more.
To create a vsp.com account, you must be the primary VSP subscriber that is eligible for benefits. If you are in open enrollment, recently changed employers, or signed up for a VSP Individual Plan, your account may not be accessible until you are eligible for benefits.
ID Card
VSP does not issue ID cards.   There's no ID card necessary - just tell your eyecare provider you have VSP.
Looking for an Eyecare Doctor
You'll get more and save more in-network, including extra offers only available to Premier locations. Check out vsp.com to find your VSP network doctor. Otherwise, going out-of-network means you'll likely pay higher out-of-pocket costs and you'll need to submit a claim.  
Welcome to VSP
Welcome to VSP!

Life is better in focus™, and we make your overall eye health and wellness our top priorities.
As a VSP member, you have access to the best care and cutting-edge technologies at the lowest out-of-pocket costs.
Get started at vsp.com:
Check your VSP vision coverage and find a VSP network doctor to get the most out of your vision benefit.
Take advantage of Exclusive Member Extras, like an extra $20 to spend on featured frame brands and savings of up to 40% on lens enhancements, to save even more on your eyewear.1
Visit a doctor who participates in the Premier Program for additional bonus offers.
Print a Member Vision Card—if you'd like one. There's no ID card necessary—just tell your provider you have VSP.
You deserve access to personalized and affordable vision care. That's why we're committed to ensuring that you experience a lifetime of good vision