The Archdiocese of Cincinnati's voluntary dental coverage is administrated through Dental Care Plus.
2022-2023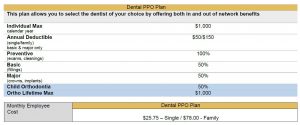 Employee Benefit Resources 
Dental PPO – Dental Care Plus

Finding a Dentist
Guide to Finding a Dentist
The Dental Care Plus Group's (DCPG) easy-to-use online provider search allows you to quickly determine if your dentist is a participating provider. The search also serves as a tool to locate an in-network general dentist or specialist practicing near you. 
Access the provider search by:
Once there, click on:
Choose a plan
In the search box type in: Dental Care Plus Group
Under the Group section click on PPO
Click on Confirm selection
Then search for Dentist
Lost ID Card
If you lose your Dental ID card, Contact Member Services at 1.800.367-9466. 
Summary of Benefits
The Summary of Benefits outlines the covered services provided by the Dental PPO insurance. 
Total Vision Services Discount Program
Dental Care Plus offers access to a free vision discount program with your dental benefits plan.  Learn more details.